SISemotion

The easy way to lift your day!
One office per employee is in sharp contrast to the open office environment where you work together with many others across disciplines and with staggered working hours.
An electrically operated sitting/standing table is a good example of how to achieve optimal working conditions in a compact space. It can easily be adjusted to suit your work and how you feel. The table top glides smoothly and noislessly up or down, and it is easy to find the exact setting which suits you best. An electrically operated table is therefore particularly suitable when several different people share the use of a table. The intermittant standing and sitting posture strengthens blood circulation and results in healthy working and therefore greater job satisfaction.
Shorter, time saving, meetings are easily held standing giving all parties easy access to papers and of the VDU screen.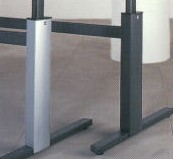 Height adjustable from 68 - 120 cm (26.7"-47.3")
The monitor plate can be adjusted from 8cm above to 8cm below table top level.
Dimensions of monitor plate 60x45cm.
Table tops with tilt can be adjusted staepless 16 degrees.